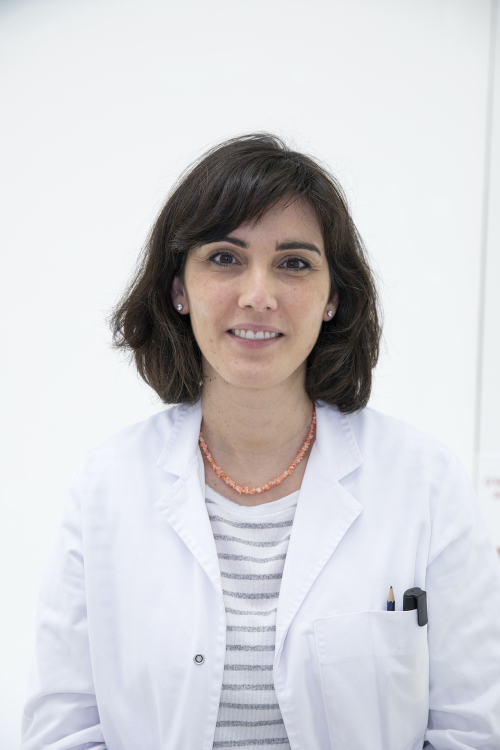 Epidemiologist
Metge adjunt del Servei de Medicina Preventiva i Epidemiologia (Hospital Vall d'Hebron)
Membre del Scientific Panel of Neuroepidemiology (European Academy of Neurology)
Membre del Grup d'estudi de Neuroepidemiologia de la Sociedad Española de Neurología
Education
Llicenciatura en Medicina (Universidad Autónoma de Madrid, 2003)
Màster en salut pública a la Escuela Nacional de Salud Pública
---
Career
De 2004 a 2008 va seguir el programa de formació per a metges en medicina preventiva i salut pública a l'Hospital Vall d'Hebron. L'any 2007 va treballar com a consultora a la Panamerican Health Organization, WHO (Washington DC).
L'any 2008 es va incorporar al Cemcat com a coordinadora del projecte Epidemiologia de l'Esclerosi Múltiple a Catalunya (Epidemcat) i donant suport metodològic i estadístic a la recerca clínica. L'any 2016 es va doctorar en Metodologia de la Recerca Biomèdica i Salut Pública (Universitat Autònoma de Barcelona). De 2011 a 2013 va col·laborar amb l'Agència de Qualitat i Avaluació Sanitàries de Catalunya per al desenvolupament de la Guia de pràctica clínica sobre l'atenció a les persones amb esclerosi múltiple. Des de finals del 2015 està coordinant l'European ECTRIMS-EAN clinical practice guideline on the pharmacological management of people with Multiple Sclerosis.
---
Projects / Lines of Research / Interests
Epidemiologia descriptiva de l'EM (incidència, prevalença, comorbiditat, mortalitat)
Estudi dels factors de risc i pronòstic associats a l'EM
Recolzament metodològic i estadístic en la investigació clínica (criteris diagnòstics, factors pronòstic i de resposta al tractament).
Medicina basada en l'evidència: desenvolupament de guies de pràctica clínica.
---
Publications
Otero-Romero S, Campins-Marti M. Outbreak of acute neurological disease associated to enterovirus in Catalonia: epidemiological aspects. Rev Neurol. 2016 Jul 1;63(1):1-2.
Otero-Romero S, Sastre-Garriga J, Comi G, Hartung HP, Soelberg Sørensen P, Thompson AJ, Vermersch P, Gold R, Montalban X. Pharmacological management of spasticity in multiple sclerosis: Systematic review and consensus paper. Mult Scler. 2016 May 19.
Otero-Romero S, Ramió-Torrentà L, Pericot I, Carmona O, Perkal H, Saiz A, Bufill E, Robles R, Simón E, Llufriu S, Vaqué-Rafart J, Sastre-Garriga J, Montalban X. Onset-adjusted incidence of multiple sclerosis in the Girona province (Spain): Evidence of increasing risk in the south of Europe. J Neurol Sci. 2015 Dec 15;359:146-50.
Mar Tintoré; Alex Rovira; Jordi Río; Susana Otero-Romero; Georgina Arrambide; Carmen Tur; Manuel Comabella; Carlos Nos; Laura Negrotto; Maria de Jesus Arevalo; Ingrid Galán; Angela Vidal-Jordana; Joaquín Castillo; Felipe Palavra; Eva Simon; Raquel Mitjana; Cristina Auger; Jaume Sastre-Garriga; Xaveir Montalban. Defining high, medium and low impact prognostic factors for developing multiple sclerosis. Brain. 2015 Jul;138(Pt 7):1863-74.
Flachenecker P, Buckow K, Pugliatti M, Kes VB, Battaglia MA, Boyko A, Confavreux C, Ellenberger D, Eskic D, Ford D, Friede T, Fuge J, Glaser A, Hillert J, Holloway E, Ioannidou E, Kappos L, Kasilingam E, Koch-Henriksen N, Kuhle J, Lepore V, Middleton R, Myhr KM, Orologas A, Otero-Romero S, Pitschnau-Michel D, Rienhoff O, Sastre-Garriga J, Schyns-Liharska T, Sutovic D, Thalheim C, Trojano M, Vlasov YV, Yaldizli O. Multiple sclerosis registries in Europe - results of a systematic survey. Mult Scler. 2014 Apr 28.
Otero-Romero S, Roura P, Solà J, Altimiras J, Sastre-Garriga J, Nos C, Vaqué J, Montalban X, Bufill E. Increase in the prevalence of multiple sclerosis over a 17-year period in Osona, Catalonia, Spain. Mult Scler. 2012 Apr 30
S. Otero, J. Batlle, I. Bonaventura, Ll. Brieva, E. Bufill, A. Cano et al. Multiple sclerosis epidemiological situation update: pertinence and set-up of a population based MS Registry of new cases in Catalonia. Rev Neurol 2010; 50 (10): 623-633