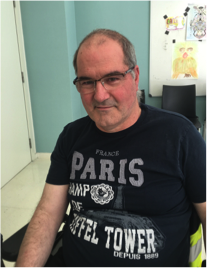 "Setting myself challenges: that's what I do". Like scuba diving, an activity he began years after being diagnosed with Multiple Sclerosis. He has clocked up more than 50 dives, and would like to dive again at the Barcelona Aquarium, where he took the chance to take a photo to publicise "Take the Plunge for Multiple Sclerosis" (as a regular participant in the sporting events organised to combat MS).
He was diagnosed with the disease in 2004 after a number of visits to Casualty. "My head started spinning, through 360°," he says, recalling the moment. Support from his family "without going so far as overprotection" has been vital for him in living with the disease. "There should be more women like my wife in this world!" he says. He also encourages patients to express their needs clearly to those around them. And to continue working provided that this is possible. "You have to learn to live differently, which is hard at first, but you have to keep going".
"At Cemcat they set up a rehabilitation programme for you in accordance with your current condition, and perform an evaluation when you enter and when you are discharged," he says. "During this stay I am doing physiotherapy and art therapy, and playing boccia". After suffering the disease for three years he needed psychological support for depression, which he received at Cemcat. "We have a centre dedicated exclusively to multiple sclerosis, which is lucky".
"A lot of people call multiple sclerosis 'the disease of 1000 faces', because it affects each of us differently. There are different treatments for each patient… Those of us who have the condition always call for there to be more research into it".
"You decide; never stop doing things that inspire you. You have 24 hours to fill every day! Life is now."